Prague, 1000 Years at the Center of European History Small Group Tour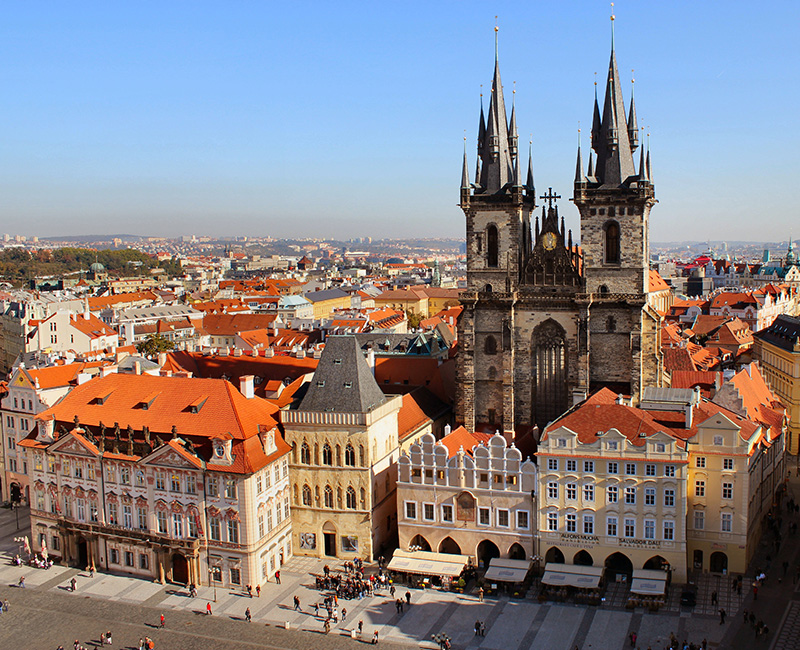 Duration: 3 Hours (approx.)
Location: Prague
Product code: PG-Introduction-group
This three hour walk introduces key monuments and familiarizes you with the Prague's 1000 years at the center of European history. You'll start in Old Town Square, the ancient marketplace that established Prague as an important center for medieval trade. The soaring late Gothic towers of Tyn Church and Old Town Hall triumphantly exhibit the economic and cultural power which Prague achieved during its centuries of Bohemian self-rule. At the Square's center, the monument to religious reformer, Jan Hus, stands as the symbol of Czech national identity and resistance to foreign domination.

Walking through the winding streets of Old Town, you'll see monuments and buildings that reveal the social and political complexities of Prague's multicultural past. At Charles University's oldest remaining structure, a lovely Gothic oriel window from 1370, you'll discover the impact that Czech intellectuals have had on their nation's political fortunes, beginning with Charles IV, the French-educated Holy Roman Emperor who founded the university in 1348 to make his capital city a center of learning.

Wenceslaus Square will frame our discussion of Prague's twentieth-century ordeals. The Nazis held mass rallies in this square, which was also the point of convergence for the Warsaw Pact tanks that crushed the Prague Spring of 1968. Next, the greatest of the city's many Art Nouveau masterpieces, Municipal House, sends us back to the twentieth century's most optimistic moment for Czech independence. Built in 1911, Municipal House flamboyantly proclaimed that the Czechs were a thoroughly modern people, ready to join Europe. It was from this hall that T.G. Masaryk announced the post-WWI creation of the first Czechoslovak Republic.

Finally, you'll walk through the Jewish Quarter. You'll see the oldest functioning temple in Europe, the Old New Synagogue; the ancient Jewish cemetery and the rococo Jewish Town Hall, leading to a discussion of the cultural and economic interactions of Prague's venerable Jewish community with its German and Czech neighbors. Ending our walk at the Vltava River, beneath a grand view of Prague Castle, we'll conclude with a summary of the Czech political system as it is still emerging, 20+ years into the country's post-Soviet revival as a modern democracy.